Kick off the Holiday Season this Sunday, November 24th with the 46th Legislative District Democrats at our annual holiday party!
Please join us this Sunday afternoon!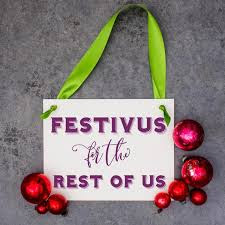 First in the Season Holiday Party!

(It's the IOWA of Holiday Parties!)
Sunday, November 24th*
Doors open 1:00pm
Program at 2:15pm
We will be thankful and make merry until 4:00pm!
* Please note - this is a date change to the weekend so more people can attend!
We will congratulate our returning incumbents and newly elected officials, and we will thank our amazing candidates who put all their passion into their campaigns, but unfortunately were not elected. We appreciate everybody's hard fought efforts!

Admission, food, desserts, and non-alcoholic beverages* are completely free, but we will have a dollar straw poll, a holiday "ask", t-shirts and buttons to buy,  and a holiday silent auction on which to bid.
All ages welcome!  Tots, teens and adults 18-108!

* Alcoholic beverages are available for purchase at the bar in the party room.
Bring your one$, five$, and checks or credit cards for straw poll fun, political games, and silent auction shopping!
We have some VIP surprise guests in store, so mark your calendar!
We will be gathering at the Elliott Bay Brewery, in the downstairs Cascade meeting room. (location details below)
General Meeting Location:  Elliott Bay Brewery, 12537 Lake City Way NE, Seattle, WA 98125
Several transit routes serve the intersection of 125th and Lake City Way, which can be found by clicking  https://tripplanner.kingcounty.gov
There is space to secure bikes and a large parking lot behind the building, with the entrance off of 30th Ave, across from Bill Pierre Licensing.
Fully ADA Accessible, no step entrances from the parking lot, and please ask the staff for access to the elevator.
Our regular meetings take the month off in December, and resume with our regular meeting on Wednesday, January 15th, 2020.  Happy Holidays!
As always, thank you for everything you did to elect Democrats at all levels this year, and we hope to see you on Sunday afternoon, November 24th!
Do you like this post?